Kevin | June 25, 2008
We've had a lot going on this month, some of it good, some of it bad.  I started off the month working third shift, and amd still doing it.  This should be my last week of it, thankfully.  Annie and I haven't gotten to spend much time together as a result of my weird schedule.   We went to Hopkinsville a couple of weeks ago, making frequent stops along the way for the 400 Mile Yard Sale on 68-80.  All we ended up buying were a couple of chairs for the porch.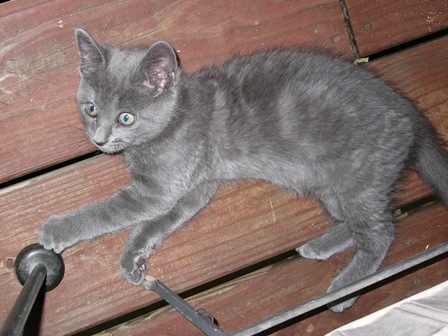 The trip was mainly to go to my sister's house and pick up our new kitten, Samus.  We named her after one of my favorite video game heroes (who was the star in one of my first games, Metroid).  She was terrrified of Katie for the first few days, but after she realized Katie wouldn't hurt her, she wants to play with Kate more than Kate does with her.  Katie has from the start wanted to be friends with her, and is protective of her.  Here is a picture of the sweet little thing.
Lastly, with Dad's help, we have started painting our house.  It looks like it's going to take us 3 weeks or so to get it all done, but it's an enjoyable bit of work as it's making our home feel even more like our own.  I'll get some new pictures up when we manage to get finished.  This coming Sunday we will be hosting a cookout for the folks at Lost River at our house, and of course our anniversary is coming up on July 10th.  We'll be in Cincinnati for that from the 10th through the 13th.  I'll have more news up after that trip, if not sooner.  We'll definitely have lots of pictures to share as well I'm sure.
Unfortunately the next week, Annie's grandmother Laverne Ford passed away.  We spent two days and nights in Munfordville for the funeral.  Junior (Rhonda's husband) and I were asked by Larry to be pallbearers along with Granny Verne's grandsons.  I'm sure I speak for Junior when I say we were honored to be asked to fill this role.  This was the second time I had been a pallbearer, the first time being for my maternal grandmother (who was my last surviving grandparent).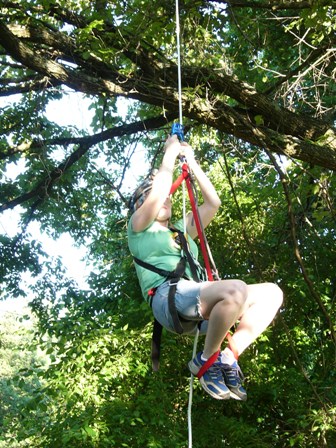 My 30th birthday was on the 19th, and we celebrated it a bit on the 21st, which was Rhonda's birthday.  On the 20th, Dr. Crawford (Annie's former boss) had dinner with us at Mariah's and we got caught up with him on recent events.  Back to my birthday, Annie went with me to see The Incredible Hulk.  I enjoyed it quite a bit, and am glad that she sat through a comic book movie for me. 
Around the same time as all of this we got a rigging set up in the tree in our front yard so that Annie can practice her rope work at home, as you can see here.