Kevin | September 23, 2008
We are back from Disney World where we all had a really good time, and saw some new things.  This was the first time Ashley had been down there since she was four, so pretty much everything was new to her.  Even since Annie and I had been down two years ago, there had been several changes.  Spaceship Earth at Epcot had our favorite additions to it, followed by the Haunted Mansion at Magic Kingdom.  Spaceship Earth had a new computer program loaded into monitors that were mounted in the ride's cars.  They let you design a bit of your future, and they even put a photo of your face onto your character.  There was also a new display, that I took a picture of, at the end that shows one of the original PCs being built in a garage in California.  The Haunted Mansion had a couple of new rooms, one based on M. C. Escher's paintings, and some small touch-ups here and there.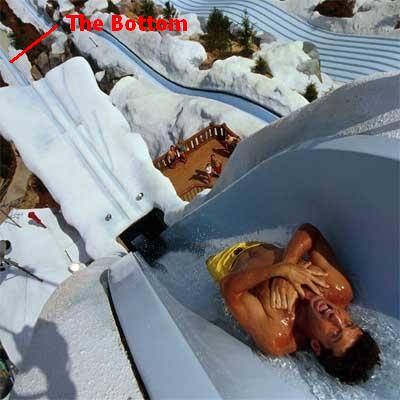 We got to visit some sections of Animal Kingdom that Annie and I didn't get to on the last trip, and even got to go to the water park Blizzard Beach.  Blizzard Beach is modeled after a ski resort that is in the process of melting.  Larry, Linda, and Ashley didn't come with us that afternoon.  We rode some neat slides and tube runs there.  Our favorite was a curving half-pipe that you ride in a figure-8 inner-tube built for two.  There was also the BIG slide and main event for Blizzard Beach, the Summit Plummet.  
This thing is huge.  It's 120 feet high, and VERY steep.  We didn't take the camera with us to the water park, so we downloaded a couple of pictures to show you this slide.  The first one was taken at the peak of the slide, where you slide down over the curve and start your fall.  Don't be fooled by the fake ski jump in the picture, the bottom is way further down.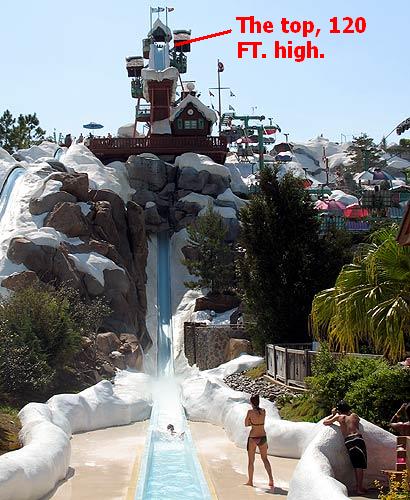 This second picture is taken from the bottom, where you gently angle out into a shallow, horizontal pool.  You come to a pretty gentle stop considering you were going 60 mph just a couple of seconds ago.
Pretty much everyone who rode it, let out a quick scream as they slide over the top and realized what they just got themselves into, after that they went stone quiet.  The scary part of the whole thing for me was when I realized on the way down that I was actually cutting a path through the falling water where my body was outrunning it.
We did get pictures of all of the other things we saw, including lots of characters roaming the parks and restaurants.  Speaking of which, we also had some very good food.  We had dinners at San Angel Inn (Mexican), Marrakech (Moroccan), and Les Chefs de France (French) at Epcot.  We ate two dinners at the Magic Kingdom at Liberty Tree Tavern (classic American served family style), and Crystal Palace (also American cuisine, but it's in a buffet).  Those two had Disney characters roaming around, the first had Minnie, Pluto, Goofy, Chip and Dale; and the second had Pooh, Piglet, Tigger, and Eyeore.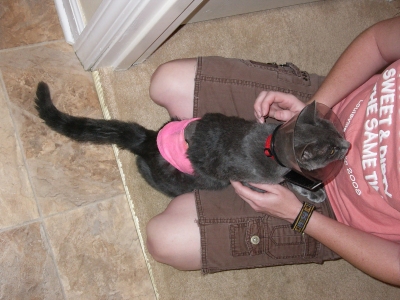 Aside from Disney World, we also have had some excitement at home.  We worked at Get Down in the Valley at Lost River and had a good time there, and then there's little Samus.  She got an infection on her back and we had to take her to the vet.  They had to shave part of her back and make a couple of incisions to drain the infection and put in a tube to let air get to it.  She's still got it in, but it will come out this week.  She's had to stay in the house for the past 10 days and wear a collar to keep her from pulling at the tube.  Ryan from Lost River stayed at our house while we were gone and looked after Katie and Samus for us.  Ryan's girlfriend, Katie, also came by and helped with Samus, keeping her incisions cleaned, and giving her the medication she needed.
I actually haven't gotten the pictures from Get Down setup in our Photo Album yet, but Disney World is up and available for everyone to see.  I'll let you all know when Get Down's pictures are up, but it should only be a few days.