Kevin | March 17, 2009
It took me longer than I expected to get an update here, and I'm sorry about that.  We've been really busy since the last one.  Annie's wisdom teeth were removed pretty smoothly.  They cut out the two lower ones, and pulled the uppers.  It left her in a great deal of pain the first couple of days, and a significant amount after that for another week.  She's almost two weeks out from the surgery now, and is doing much better.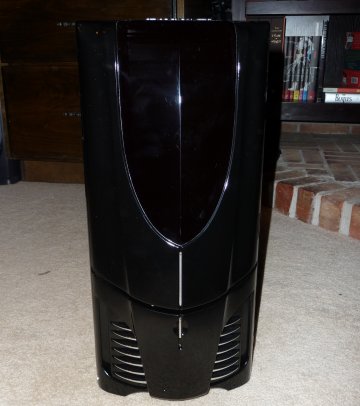 I've been working a great deal on top of taking care of Annie while she was down.  Not only did I have to setup my new PC (more below), but I've been doing contract work from home as well.  It's database work for the Hughes and Coleman law firm.  It's been pretty interesting, and I'm getting refreshed on my SQL and figuring out some new methods.  I'm probably a bit more than halfway through what they've ask me for so far, but there may be more projects after this.
As for the new PC, I'm loving it.  I don't think even my last machine was this comparably fast at the time I got it.  This one absolutely flies.  The response time is incredibly fast, and the quad cores just tear through anything I feed into them.  Having used a lot of different systems over the years, I have to say the i7 is my new favorite processor, and the motherboard options that go with it are top notch.  My Asus MB has LOTS of customization for performance/energy saving and can dynamically adjust these settings on the fly.  I'm VERY pleased with it.  The only complaint (which is tiny)
is that the MB has a speed boot feature to let you into instant messangers or e-mail without loading all of Windows and I have to make a choice for it on boot-up.  The reason this is a complaint, is that the machine is so fast that it only takes about six seconds for Windows to load anyway.  I see what they were going for, it's just not a feature that I need and so it just slows me down.  I haven't checked to see if I can disable it though, so it may not be an issue at all.
Well, I could go on all day about the technical performace of my new machine, but I'll save you all.  Annie has to hear way more than she wants as it is.
  So I'll say : Happy St. Patrick's Day everyone, and we'll be back with more soon.
PS.  do you recognize the first couple in the Lumaha'i pictures?  And the rainbow in the second picture was from our wedding day, too.