Welcome to
Annie's Caving Pages
I have been caving now for 13 years. I began during my high school years with a simple interest in what lay underground. It was a combination of being in south-central Kentucky, where the caves are just a part of life, scientific leanings and an older sister also interested. Granted, my sis did not get down and dirty, but she was the first to explain to me how they formed and gave me an interest to see this first hand. I guess you can say my career and hobbies can be traced back to my sister, Rhonda.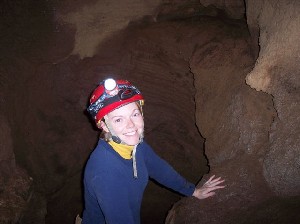 My first summer job followed in the steps of my older sister; being a tour guide at a privately owned show cave. The cave was small, with some damage, but was as beautiful as it could be for me. I took pride in protecting it, educating people about it, and exploring its leads most days after hours. Over the next several years there I became the assistant manger of the cave, having actually become more interested in it than the owners! It wasn't long though till I left for college and got offered a summer seasonal job at Mammoth Cave National Park—guiding in big time! I continued training the new guides at the privately owned cave during once a year, one week sessions however till several years after I graduated college, closing that chapter of my life in 2000.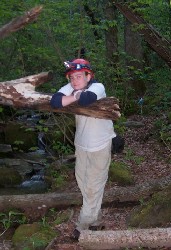 I started college pursuing a degree in Psychology. I would take testing and stats classes (blah) and then return to exciting Mammoth Cave each summer for work giving tours during the day and participating in after-hours trips at night. Then one summer I decided, after re-reading Art Palmer's The Geologic History of Mammoth Cave National Park for about the 5th time, if there are some people who make a living out of their interest in caves maybe I can too. That Fall Semester I changed my major to Geology and here I am. After graduating in December 1999 from Murray State University, I got a job as a hydrologist with Crawford and Associates, a private consulting firm. The firm was only open for another year until the owners retired. Fortunately, the owner, also a professor at Western Kentucky University where he was also the Director of the Center for Cave and Karst Studies, wasn't interested in seeing me walk away. The Center was in need of a hydrologist with experience in geophysics and dye tracing. I was hired on there in March of 2001—and I'm still there today. Occasionally I get to go underground for work related projects, and that's always great. But more often, I cave with friends and co-workers on a "when ever we can" basis. I also belong to the Louisville Grotto Caving Club for opportunities I might other wise miss. Please ask me, or check out the link I have on our home page, for information about joining the Grotto.
My Gear
My gear may not be as specialized as some much more extreme-situation cavers, and I may not have opinions of thousands of brands and kinds of necessities like much more 'seasoned' cavers, but I like what I use. It is necessary that anyone going underground have a helmet and light sources. My pack is a Lost Creek cave pack. This is a wonderful pack, but has had to be altered so that the straps size down enough for my small frame. Strong boots, with good ankle support and good gripping lug soles work great. It is good to find waterproof boots, but you must take care of them so that they last. Cleaning them when you get back and periodically re-applying waterproofing chemicals will extend their life. Water proof socks, such as the Seal Skin socks I use, are great!! (Thanks mom!!) Knee pads and gloves are nice to have when climbing and crawling, especially when chert is involved. You also have to be ready to bring some water and food down with you. Nalgene bottles are difficult to stain with colors or smell (in case you'd rather have Gatorade). If you frequently cave in areas where you might dip in and out of water, you should get some water proof bags to hold food.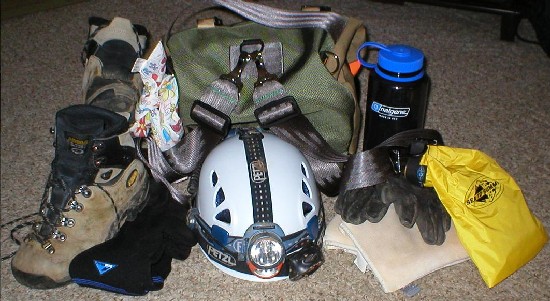 I currently use a white Petzl Elios helmet with a Petzl Myo (5 LED/halogen combo) light as my main light and a Petzl Tactikka (3 LED) light as my backup. I also carry a Mag stick light in my pack. When I first began I used a red Petzl Ecrin Roc heltmet and a single halogen Petzl Zoom. That sets still works well as a back up (or you can use it if you want me to take you caving sometime). I have found that the Elios is much lighter, easier to size down and fits much more slim than the Ecrin Roc.