Holt Family Puzzle Project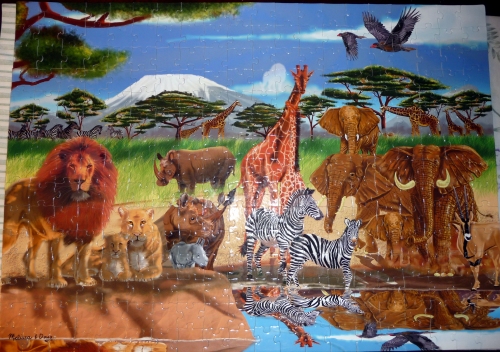 Will you be a piece of the puzzle?
You can help us bring our baby home. We are selling space on the back of these puzzle pieces to help fund the return flight from the Democratic Republic of the Congo for our baby. The completed puzzle will be placed into a double glass frame in the nursery for our child to see. The spaces we are selling will be the back of each piece. Any message you'd like to our child can be written on the piece(s), or it can simply be your name.

There are two options to help support us with this project. The first is to send us a check (or pay us directly) for pieces, and the second is to use the donate button below to pay through PayPal, which excepts credit and debit cards. The PayPal option includes an expense for us for each transaction, so we prefer the first option if possible, but any and all support is greatly appreciated. The puzzle has 300 pieces, and we are selling space on each piece for $5. Each piece is roughly 1.5" square.

John 14:18
I will not leave you as orphans. I will come to you.
Thank you for your support:
Sara Ferguson
Danny and Susan Bays
Ashley and Clayton Wilkerson
Brandy and Ian MacHarrie
Kara and Ken
Alex Morris and Patrick Russell
Brian and Jeanne Fisher
Scott and Tammy Thompson
Nori and Dan Sciambi
Jeremy and Tina Logsdon
David and Joan Gibson
Bradley and Melissa Gibson
Micki Love
Hankins Family
Whit and Mike Adams
Gena Jaggers
Andrea Falsetto
Sue Simpson
Jimmy and Darla Holt, Courtney and Levi
Sue Holt
Ruby and Paul Hardison
Jimmy and Fay Cornelius
Clay, Ashley, Ethan and Ella Cornelius
Amy, Chris, Allie, and Alec Maternowski
Kenneth and Marilyn Holt
Josh, Sam, and Alex
Sarah and Brad Fancher
Sylvia and Tim Risher
Becky and Gary Madison
Steve and Teresa Goodman, Austin Vibbert, Janice Humphrey and Butch Avery
James and Carolyn Meredith
Jimmy and Betty Staples
Chris Reynolds
Jerry Reynolds
Derrick Staples
Rhonda, Junior, Bradley, and Nick Logsdon
Ashley and Will Huff
Christine Russell
Flora Casteel
Larry and Linda Ford
Shanni Fox
Beth and Wesley Miller
Michael, Cathy, Bradley, and Anabeth Webster
Matt and Tandy Kauffman
Jon, Stacey, Lucas, and Andrew Ernstberger
Norma Sutton
Lorraine Durham
Lisa and Gary Myers
Ed, Sherry, Hannah, Ashley, and Trey Shemwell
Hazel Ray
Doris Durham
James Greer
Rick, Christy, Luke, and Justin Jasper
Neila, William, Abby, and Anna Combs
Justin, Violet, Juliet, Alyssa, and Scout Jenkins
Jerry, Sheila, and Jason Holt